ETHIOPIA OBSERVER
10  August 2018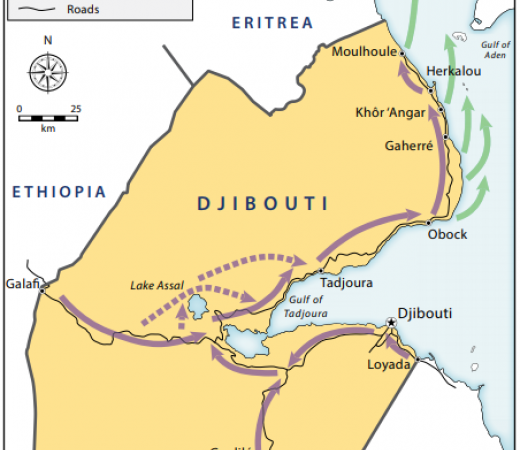 The wave of violence in Djibouti has injured and uprooted thousands of Ethiopians, in what was widely believed to be a retaliation attack. The violent attacks against Ethiopian immigrants left several wounded, according to Ethiopian witnesses. Ethiopian-owned shops have been attacked and looted in Balbala area of Djibouti city, according to witnesses.
The violence has been triggered following attacks that left six Djiboutian nationals dead in the Ethiopian city of Dire Dawa on August 5. "The Ethiopians who live in the Somali neighbourhoods of Djibouti city and the suburbs of Balbala have fled their homes and are now sheltered in Arhiba, an area inhabited by the Afars," an Ethiopian businessman who asked not to be named told Ethiopia Observer. Thousands of Ethiopians, most of them Oromo ethnic groups are sheltered in makeshift camps at Arhiba fearing for their lives, the witnesses said. Oromo Media Network (OMN) showed footages of Oromo people being supported at Arhiba. The Ethiopians in Djibouti accuse of their embassy for inaction, and they say they are only getting assistance from the International Organization for Migration (IOM).
The crisis in Dire Dawa started by events in the Somali regional capital Jijiga when supporters of the embattled regional presidents attacked non-Somalian living in the area. Djibouti had airlifted a total of 2,000 nationals from Dire Dawa, following attacks on its citizens who were there on vacation. Many Djiboutians come to Dire Dawa on July and August to escape the intense hot season there.
The Voice of America's Amharic service reported few hours ago that Ethiopia is preparing to repatriate 3,000 citizens stranded in Djibouti. About 200 have already returned home, the radio said citing Ethiopian government officials. Other sources in Djibouti told Ethiopia Observer there are around one thousand four hundred Ethiopians gathered in Nagad's police headquarters, found in the suburbs of Djibouti city. The same sources say they were transferred from different parts of the country after they felt threatened and they were offered either return to Ethiopia under escort or temporary relocation in other parts of the city. 320 of them chose to return to Ethiopia. The Djiboutian government arranged bus transport for them, few of them have travelled on train by their own, it was said.
Djibouti's primary cultural groups are the Issa and the Afar. The Issa resides in Djibouti, Somalia, and Ethiopia and the Afar resides in Djibouti, Ethiopia, and Eritrea. Around 80,000 Ethiopians permanently live in Djibouti, mostly Oromo and Issa ethnic groups. Many of those who live in suburbs of Balbalahave are from Eastern Ethiopia such as Dire Dawa and Harar who have moved there in early 1980's during the military Derg period. Other more recent migrants, Amhara and Afar from Wollo area are mostly based in Arhiba, a suburb inhabited by the Afars. As opposed to those who stay, thousands of Ethiopian migrants pass through Djibouti each year to reach Yemen and eventually Saudi Arabia and other rich Arab countries.
https://www.ethiopiaobserver.com/