CNN
15 November 2018
by  BETHLEHEM FELEKE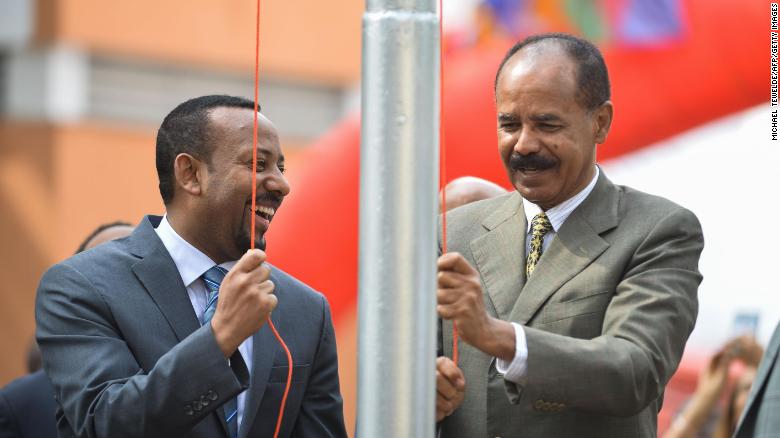 ethiopian Prime Minister Abiy Ahmed, left, and Eritrean President Isaias Afwerki celebrate the reopening of the Embassy of Eritrea in Ethiopia in July.
CNN) – The UN Security Council unanimously voted on Wednesday to lift 9-year-old sanctions against Eritrea that imposed travel bans, asset freezes and an arms embargo.
The East African country was hit with targeted sanctions in 2009 after being accused of having ties to Al-Shabaab militants in Somalia and refusing to withdraw from border disputes with Djibouti. Eritrea denied the accusations of involvement with Al-Shabaab.
The resolution, which was drafted by the United Kingdom and backed by allies, marks a new chapter for peace and cooperation in Eritrea after years of regional conflict.
In July, Eritrea and neighboring former sworn enemy Ethiopia signed a peace deal officially ending a decades-old war and restoring diplomatic relations. Eritrea's position has improved across the Horn of Africa since historically hostile relations with Somalia and Djibouti have also thawed in recent months, UN members noted after the vote.
The peace advancements in the region played a significant role in removing sanctions, according to a statement from Karen Pierce, the UK's ambassador to the UN. "This is a very important move both for the region, who have made sterling efforts to make this work, and for the wider UN and international community," said Pierce.
The decision was celebrated by Amanuel Giorgio, the representative of Eritrea to the UN, who said "The lifting of the sanction will mark an end of a difficult period for Eritrea and the region."
The lifting of sanctions represents a positive shift for Eritrea, which hopes to re-establish good relations with its neighbors and restore political clout. News of the resolution struck a joyous chord in Eritrea and
Yemane Gebremeskel, the country's minister of information
, tweeted his approval, saying, "The Government of Eritrea welcomes this belated decision to redress injustice, almost a decade after nefarious acts were taken inculcating indefensible harm on the country."
Previous UN reports on Eritrea found the government was responsible for systematic and widespread human rights violations.
But members of the UN believe Eritrea has shown good faith in peace and cooperation efforts in the region, which they hope will lead to progress within the country. The removal of sanctions is believed to propel the country even further as a "good basis for improving the human rights situation," Dutch Ambassador to the UN Karel van Oosterom told reporters after the vote.
A spokesperson for UN Secretary-General Antonio Guterres said, "The lifting of sanctions on Eritrea will contribute to further advancing peace-building efforts in the region and to consolidating a conducive environment for greater economic integration and sustainable development."
https://edition.cnn.com/2018/11/14/africa/un-lifts-eritrea-sanctions/index.html