THE GUARDIAN
11 September 2018
Kremlin officials are offering arms and military services deals in exchange for diplomatic support and mineral extraction contracts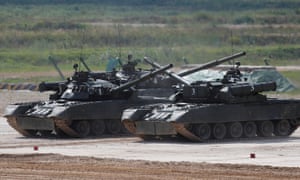 Russia's intervention in Africa has included arms sales, military services, and an agreement for a Russian logistics base in Eritrea. Photograph: Maxim Shemetov/Reuters
Russia is engaged in a frantic new scramble for influence in Africa, which is being spearheaded by a rash of military cooperation and arms deals signed across the continent in 2018.
The most recent – an agreement for a planned Russian logistics base in Eritrea, which would give it access to the Red Sea – was announced in early September after nine months that have seen Kremlin officials crisscross from the Horn to the Great Lakes and southern Africa.
The pace of Russia's renewed intervention has raised fears over the human rights and security implications of selling arms to regimes that are weak or in conflict, particularly as the US has signalled its own plans to withdraw troops and close missions.
Scrutiny was heightened last month following the murder of three Russian journalists in Central African Republic while they were investigating the activities of the controversial Russian military services firm Wagner.
The moves, say observers, have accelerated markedly in 2018 as senior Russian officials have shuttled between capitals offering arms and military services deals – often with few conditions attached – in exchange for diplomatic support and potentially lucrative mineral extraction contracts.
But if CAR has been unusual, with the arrival of some 175 Russian private contractors and military personnel in addition to the supply of arms, it has also become emblematic of the wider Russian efforts in Africa, catching out even those working there.
"The official narrative is that the Russian government and CAR had a long standing cooperation," said one international official who has closely observed events in CAR since Russian advisers began arriving.
"But honestly if anyone had said last autumn that this was going to happen and that there would soon be so many Russian people on the ground, no one would have believed it."
"Everyone has been struck by the speed at which this has got going," another observer told the Guardian.
"In January this year we got word the Russians were training the president's security forces in Berengo in [the former CAR dictator Jean-Bédel] Bokassa's old palace there. It went from rumours on social media to a sizeable Russian presence at an incredible speed."
It has not only been the supply of small arms and boots on the ground; there are also concerns Russia has interposed itself as a mediator between the CAR government and rebel armed groups in talks in Sudan. This undercuts the African Union's own mediation and there have been claims Russia is using them to negotiate access to diamonds, gold and uranium in rebel-controlled areas.
It is not only in CAR that western officials have been caught off-guard by Russia's escalating interest in Africa.
Senior officials including Russian foreign minister Sergei Lavrov and Valentina Matviyenko, chairwoman of the Russian federation council (and a close ally of Vladimir Putin), have led the charge to sign military cooperation deals.
In a high profile visit in March, Lavrov visited Angola, Namibia, Mozambique, Ethiopia, and Zimbabwe, signing a raft of agreements for economic zones, mineral exploration and for military and technical cooperation.
In July it was the turn of Dmitry Shugaev, director of Russia's federal service for military and technical cooperation, who appeared on the edges of the BRICS summit to announce the signing of a memorandum of understanding with the Southern African Development Community for military cooperation, including training.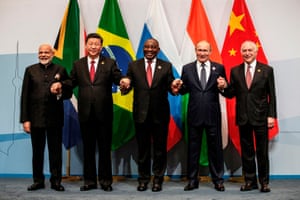 At the BRICS summit in South Africa in July: (L-R) the prime minister of India, Narendra Modi; the president of China, Xi Jinping; the president of South Africa, Cyril Ramaphosa; the president of Russia, Vladimir Putin; and the president of Brazil, Michel Temer. Photograph: Gianluigi Guercia/AFP/Getty Images
Foreign policy experts, who have noted the sharp rise in Russian engagement in Africa, believe it is being driven by several factors.
https://www.theguardian.com/global-development/2018/sep/11/russias-scramble-for-influence-in-africa-catches-western-officials-off-guard