THE GUARDIAN
2 August 2019
by MATTHEW WEAVER and AGENCIES IN  MODADISHU
Abdirahman Omar Osman was a naturalised Briton who once worked as a council housing manager in London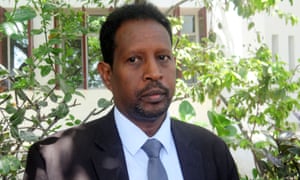 The mayor of Mogadishu has died after being badly wounded in an al-Shabaab extremist attack in his office last week, the government of Somalia has announced.
Abdirahman Omar Osman was a naturalised Briton who returned to Somalia to help rebuild the war-torn country. He spent 17 years in the UK including a stint as housing manager at Ealing council in west London.
He died on Thursday in Qatar, where he had been airlifted for treatment after the attack on 24 July. Officials said he had been in a coma.
His son, Mohamed Omar, a student at London's Queen Mary University, said: "Today the people of Mogadishu lose their mayor; but I lost my father. May Allah grant him the highest rank of paradise."