SOUTH CHINA MORNIING POST
31 August 2019
by MATHIEU DUCHATEL
Mathieu Duchâtel writes that China is not creating military options for deterrence purposes or psychological warfare only. Military action in the name of counterterrorism is plausible in the years ahead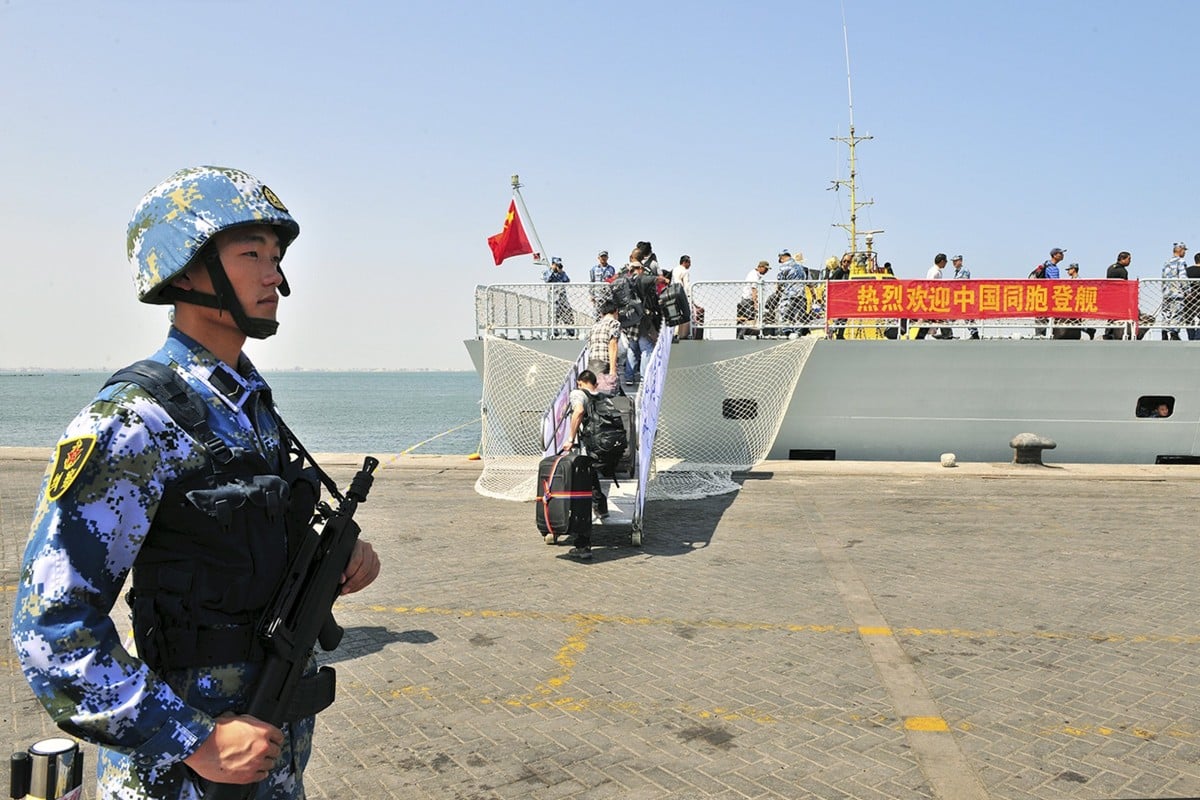 A soldier of the People's Liberation Army stands guard as Chinese citizens board a navy ship in Aden in 2015. Photo: Reuters
Vanuatu, the Maldives, Cambodia, Sri Lanka …
Not a single week passes without new rumours regarding where the Chinese navy will build its second overseas base after Djibouti in East Africa.
Speculation about Gwadar in Pakistan as a possible location for a base has never faded since construction of the port started in 2002.
The PLA Navy's future long-range operations will require more logistical support facilities; and so China should be expected to seize the right opportunities to justify the conclusion of its future basing agreements.
An escort mission by the Chinese navy in the Strait of Hormuz, as vowed by US President Donald Trump, could provide a perfect opportunity for the PLA to justify a move in Pakistan, for example.
But while the navy attracts most of the international attention, the Chinese military already operates a second overseas military outpost in Tajikistan, and most probably has done so since 2016. (The exact date of its launch is unclear, as there was no official announcement.)
Despite China's denial – the facility was not even mentioned publicly in the context of President Xi Jinping's visit to Tajikistan last June – media reports, satellite imagery and photographs show a small facility in the Gorno-Badakshan province about 10km (six miles) north of Tajikistan's border with Afghanistan and about 30km from the China-Tajik border.
The location oversees the Wakhan corridor, the panhandle of Afghanistan's Badakhshan province that separates Tajikistan from Pakistan.
The choice of the Badakhshan area and China's absence of official communication despite the strategic significance of Beijing's decision merit attention.
They point to China's foreign policy evolution regarding the use of military power overseas; how China tries to contain the spillover of its policy in Xinjiang and its relations with Russia.
China to join Russia in war games as Beijing's Washington ties unravel
The facility in Tajikistan is primarily about China's border security. There has been concern in Beijing that Islamic State could strike Chinese interests.
The organisation has a footprint in Afghanistan and has threatened action against China since being founded in response to Chinese policies concerning Xinjiang Muslims.
The 2015 defection of the head of the Tajik special police force, Colonel Gulmurod Khalimov, to Islamic State in Syria, where he became a key IS official – his death in a Russian bombing is rumoured but unconfirmed – gives some idea of the potential jihadist risk in Tajikistan.
The Badakhshan area is mostly located over 3,000 metres (two miles) above sea level in the Pamir Mountains and is covered by snow most of the year.
Trained jihadists would find it difficult to sneak into Chinese territory and strike in Xinjiang, even without additional surveillance.
In 2008-09, when the Obama administration tried to engage China in security cooperation to end the war in Afghanistan, the mainstream view in Beijing was that the Wakhan corridor did not pose a particular threat to Xinjiang.
The extreme natural conditions were seen as an excellent line of defence.
This view has changed in the context of the crackdown in Xinjiang, but also because of Xi's new perspective on the usefulness of military power as a foreign policy instrument.
Chinese frigate emblematic of Beijing's Indian Ocean power play
At the minimum, the facility provides better area awareness and intelligence to the Chinese military to help it maintain full control over Xinjiang's border and isolate Xinjiang from any outside support that could undermine China's mass-internment policy.
In addition, the facility should be understood as Chinese capacity-building to support Tajikistan's resilience in face of the threats to the country's stability (it has been reported but without official confirmation that the facility is co-staffed by Tajik armed forces).
Helping finance Tajikistan's border guards and deepening bilateral military cooperation are part of the same capacity-building effort.
Russia was not invited to be part of the QCCM but has not actively opposed China taking on a security role in Tajikistan.
This reflects some mutual trust at the highest political level, but much more decisively, a compatibility with Russian security interests.
Chinese actions that target Islamic terrorism and drug trafficking in Central Asia are likely to be seen in a positive light in Moscow as long as the potential for geopolitical competition between China and Russia is neutralised by their ideological convergence, common threat perceptions and an anti-Western project for the international order.
Security forum shows Chinese military's route to Africa
China's silence on Tajikistan contrasts with the intense communication of the PLA Navy around Djibouti. Avoiding attention is still perceived as useful in matters of terrorism.
This low-key approach is a reminder that Chinese foreign policy has not completely abandoned caution as it has grown much more willing to take risks under Xi.
But at a more general level, what matters most for the international community, and for Hong Kong, is that China is not creating military options for deterrence purposes or psychological warfare only.
Military action in the name of counterterrorism is a very plausible scenario in the coming years.
https://www.scmp.com/news/china/diplomacy/article/3024797/how-china-positioning-its-counterterrorism-forces-play-greater