ALL AFRICA
27 November 2018
by JIM SWAN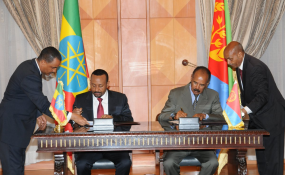 Eritrea and Ethiopia have signed a Joint Declaration of Peace and Friendship today. The Agreement, which specifies five pillars, was signed this morning at State House by President Isaias Afwerki and Prime Minister Abiy Ahmed
This month's United Nations Security Council decision to lift sanctions on Eritrea is the clearest signal yet of the international community's confidence in regional peacemaking efforts in the conflict-prone Horn of Africa.
For two decades Eritrea has been best known for its obstinate self-isolation and its repeated attempts to destabilize its neighbors. But recent Ethiopian-led overtures offer a path for Eritrea to emerge from this dark era to contribute to regional security and development. Now it is up to Eritrean President Isaias Afwerki to show the statesmanship to seize this opportunity.
For the United States, a more stable Horn is important not only in the fight against international terrorism, but also for the region's proximity to sea lanes vital to the 10 percent of global trade that transits the Suez Canal.
UN sanctions dated from Eritrea's aid to Somali terrorist groups in the 2000s and then its military incursion into Djibouti in 2008. With the end to sanctions, President Isaias can no longer claim that external threats or pressure warrant the closed political and economic system over which he has presided, or the hostile relations with his neighbors that have been his trademark.
The breakthrough rapprochement between Addis and Asmara in the past six months was fundamentally the work of Ethiopian Prime Minister Abiy Ahmed. Braving the ire of hawks in his own national security establishment, Abiy finally agreed to implement the 2002 Eritrea-Ethiopia Boundary Commission (EEBC) ruling mandated in the Algiers Agreement which formally ended the 1998-2000 Eritrea-Ethiopia war.
Implementation of the EEBC decision had been a longstanding demand of Isaias, and requires border adjustments including the return to Eritrea of the town of Badme, which was a flashpoint in the conflict that cost an estimated 60,000 to 100,000 Eritrean and Ethiopian lives.