DNA INDIA
31 July 2018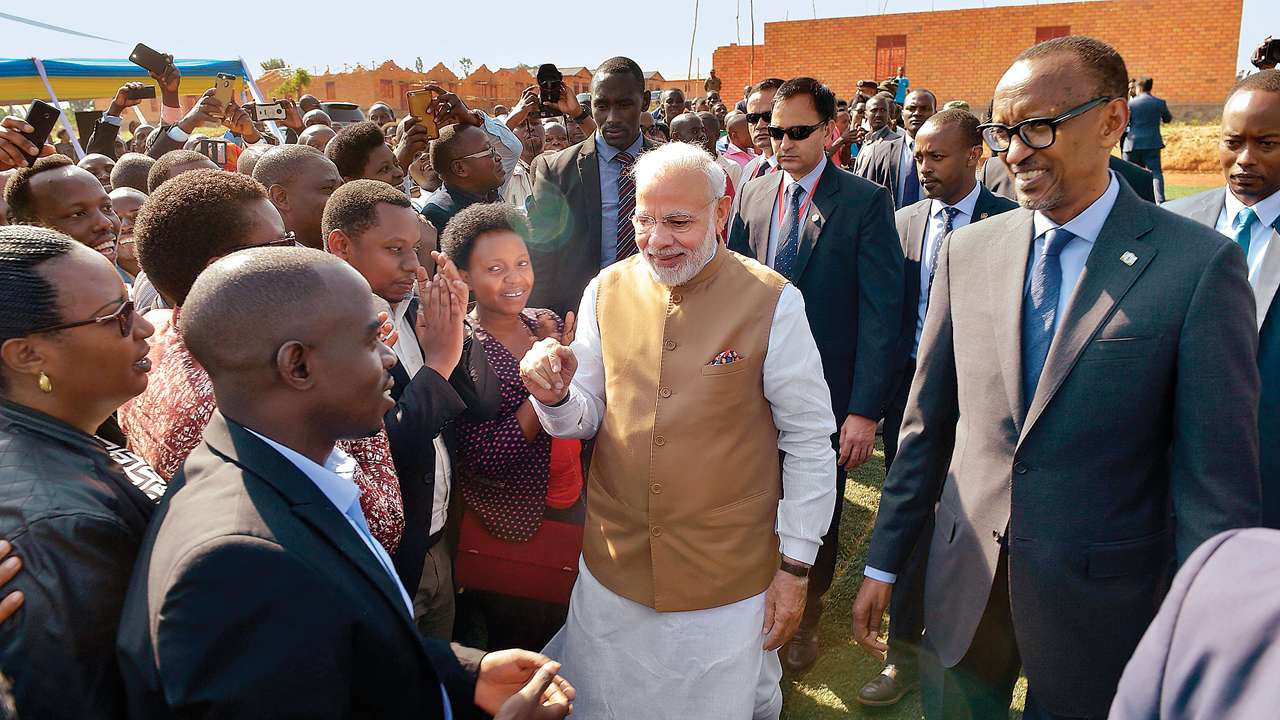 India and China are doing their best to establish a foothold in Africa.  In the last week of July, Prime Minister Narendra Modi visited Rwanda, Uganda and South Africa while Chinese President Xi Jinping also paid a visit to Senegal, Rwanda, South Africa and Mauritius. The move shows that the two Asian giants are doing all they can to expand their soft power presence in Africa and that their mutual interests will result in competition.
During his visit to Rwanda, President Xi signed 15 big deals, with China having decided to fund projects in road constructions, hospital renovation and development of the Bugesera International Airport. He also expressed his commitment to offer $14.7 billion in investment in South Africa while Senegal has become the first West African country to sign a Belt and Road cooperation agreement with China. Prime Minister Modi has also done his bit. During his trip, the PM gifted 200 cows to villagers in Rwanda to support President Paul Kagame's initiative for poverty reduction and tackling childhood malnutrition. He also extended $200 million worth of credit lines each to Rwanda and Uganda.
Why is Africa so important to both countries? One of the reasons for India and China to strengthen their engagements with African countries is the availability of this region as a big market for their products. Oil needs are another factor for New Delhi and Beijing to focus on having close relations with the region. This continent has huge energy reserves, with Kenya having one of the largest crude oil refineries while South Africa comprises 3 per cent of African coal reserves. Mozambique has one of the world's richest off-shore natural gas reserves and massive deposits of coal. As result, China and India are competing with each other to secure African oil and other natural resources to boost their economies.
Undoubtedly, over the years, China and India have made sustained efforts to build and expand ties with the African continent. Saying this, Beijing has taken a big leap in courting African countries. Ever since the Forum on China-Africa Cooperation was established in 2000, trade volume between the two sides has increased to US $170 billion in 2017. China has also extensively focused on sending its high-ranking officials on visits to boost ties with countries of the African continent with its easy loan policy that has helped it to deepen its foothold in this region. In fact, for various energy and infrastructure projects in Africa, Chinese loans have increased from US $3 billion in 2016 to US $8.8 billion in 2017. On the other hand, while India does enjoy a strong historical relationship with the African continent, its bilateral trade with this region has reached just $70 billion with the two sides targeting a trade of $500 billion by 2020.
However, as African countries have focused on expanding economic ties with other countries of the world some of them have also rung alarm bells about the inherent imperialistic maneuvering behind China's easy-loan policy towards the African region. This only works in India's favour. Countries in this continent have taken renewed interest in reinventing their ties with India, especially since the formation of the India-Africa Forum Summit (IAFS) in 2008. But it is the Modi government which has boosted this relationship through several measures to elevate ties between India and Africa. In 2015, India hosted the third edition of the IAFS in New Delhi, in which all the 54 African countries participated. While Prime Minister Modi visited Mozambique, South Africa, Tanzania and Kenya in 2016, President Ramnath Kovind toured Guinea and Zambia last year. India has also announced that it will open 18 new embassies in Africa between 2018 and 2021. At the same time, thanks in part to the Indian diaspora there, India enjoys better relations with the people of this region than China. This has significantly increased India's visibility in the African continent.
It is not just trade. India also sees African countries as playing a vital role in promoting peace and security in the Indian Ocean. New Delhi is deeply concerned that China's Belt Road Initiative (BRI) will have serious security implications in the view of the fact that this project will provide China access to ports from the South China Sea to the eastern coast of Africa. Djibouti is at the meeting point of the Indian Ocean and the Red Sea connecting Africa to Asia, and China's deepening military control in this country and beyond, has become another major factor for India to speed up its engagement with African countries. It was in this context that last year India signed a MoU with Kenya on defence cooperation, which will entail staff exchanges, expertise sharing, and training, aimed to counter China's BRI.
While at the recently concluded BRICS meeting in Johannesburg, Modi and Xi – along with the other three member countries – expressed their commitment to work together to promote a fair and stable global economy, it remains to be seen how their clashes of interest in Africa will impact their bilateral ties and the future of BRICS.
http://www.dnaindia.com/analysis/column-competition-in-africa-will-it-affect-india-china-relations-2644042